The Movie Memories Roadshow
24 August, 12pm - 5pm


Film and Screen Auditorium, Kane building basement, B10b, University College Cork
Calling film fans! Step into our theatre of memory, share your stories of going to the movies! We want tales of passion @Pav; Comedy @theCapitol; slapstick@Savoy; Mayhem at Miah's!! #moviememories
The Movie Memories Roadshow, August 24th, UCC Come along to a special day celebrating the rich heritage of cinemas in Ireland. This is your chance to learn more about the cinema-going past, in Cork and beyond, and to deposit your own memories in our memory bank, by recording a video or sending us a postcard. Your memories may be selected to be included in our movie memories website (moviememories.ie). Grab your chance to be part of a nationwide project that captures our amazing cinema heritage!
Access & Parking
Suitable for Children under 12
Wheelchair Access (Full)
Car Parking Available
---
Cork Movie Memories took to the road in November!
On November 7th we had the pleasure of screening our short documentary, Movie Memories, to the members of the East Cork Cinema Club in Cobh. The screening was in aid of Cobh Community hospital and, despite the terrible weather, it was very well attended. Following the screening, we participated in a lively Q&A session and were treated to stories about cinema-going in Cobh, including some memories shared by Mr. John Frennet, whose family ran one of the cinemas in the town (The Arch). At one point, Cobh had five cinemas in operation but today, sadly, it has none- though the East Cork Cinema club does a great job of programming weekly screenings and events. Cork Movies Memories wishes to thank John Smith and Fionnghuala Smith of the Club for their generous hospitality
On Nov. 9th, we brought Movie Memories to Youghal for a gala screening, followed by a cocktail reception, at the newly-refurbished Regal Cinema. There couldn't have been a better venue to show the film: many of the interviewees in the documentary were regulars at the old Regal, one of the two cinemas that were in the town (the other being Horgan's Picture Theatre). The film played to a packed house (again, despite atrocious weather!), and we spent a memorable afternoon listening to the memories of the town's cinema-goers, as well as with those that were professionally involved in the cinemas there: we met with members of the Horgan family, and also 91 year old Michael Kenefick, who was one of the projectionists at the old Regal and who travelled from his home in Clashmore to attend the event.  It was a true honour to screen Movie Memories in a venue steeped in history and in a town that truly is "the cradle of Irish filmmaking": the Horgan brothers shot the first animated film in Ireland, and were the first native filmmakers too, with films dating back to 1904.

The following day, we launched our "Movie Memories Roadshow" at the Mall Arts Centre in the town. This initiative, which is co-funded by Creative Ireland/Cork County Council and by Impact funding provided by the College of Arts, Celtic Studies, Social Sciences UCC, aims to gather materials on cinema-going and cinema exhibition from all around Munster. The Roadshow consisted of an exhibition of archival materials (photos, memorabilia, letters, ledgers, artefacts) commemorating the rich history of Youghal's cinemas and its filmmakers; screenings of Movie Memoriesand Flickering Ireland (a short film directed by UCC graduate Michael Hussey, on the subject of entertainments in Youghal); a bank of laptops at which members of the public could check out our ever-expanding archive (corkmoviememories.com); a 'memory box' in which people could deposit their written memories; and a pop-up memory booth to film memories. We also unveiled an original work of art, commissioned as a homage to the Horgan brothers, and created by American artist Gabrielle Ulubay.
We were thrilled to have had such a great response to all aspects of the Roadshow and to have gathered memories from across the generations.
We wish to acknowledge the warm support we received from the community in Youghal who turned out in great numbers on both days. Thanks, too, must go to the staff at CRYFM 104; Youghal News; Youghal Online; East Cork Journal, and to Mr. Christy Parker of the Examiner, who did so much to promote events.We would like to thank the Regal's owner Mr. Nick Finn, General manager Scott Wilson, projectionist Killian Daley and all the staff there; and Sinead Goggin and all the staff at the Mall Arts Centre/Yew Wood Venues for their generous support and facilitation on both days. We thank members of the Horgan family, members of the Roche family, Mr. Colm Keane, Mr. John McGrath, Mr. Maurice Browne, Mr. Warren Tivy and Mr. Liam Burke for getting involved and lending us photos and artefacts. A special note of thanks goes to our assistant for both days, Ms. Gabrielle Ulubay, and to our 'man in Youghal' Mr. Michael Hussey who pulled out all the stops to ensure that we could launch our Movie Memories Roadshow in a town so rich in cinema history..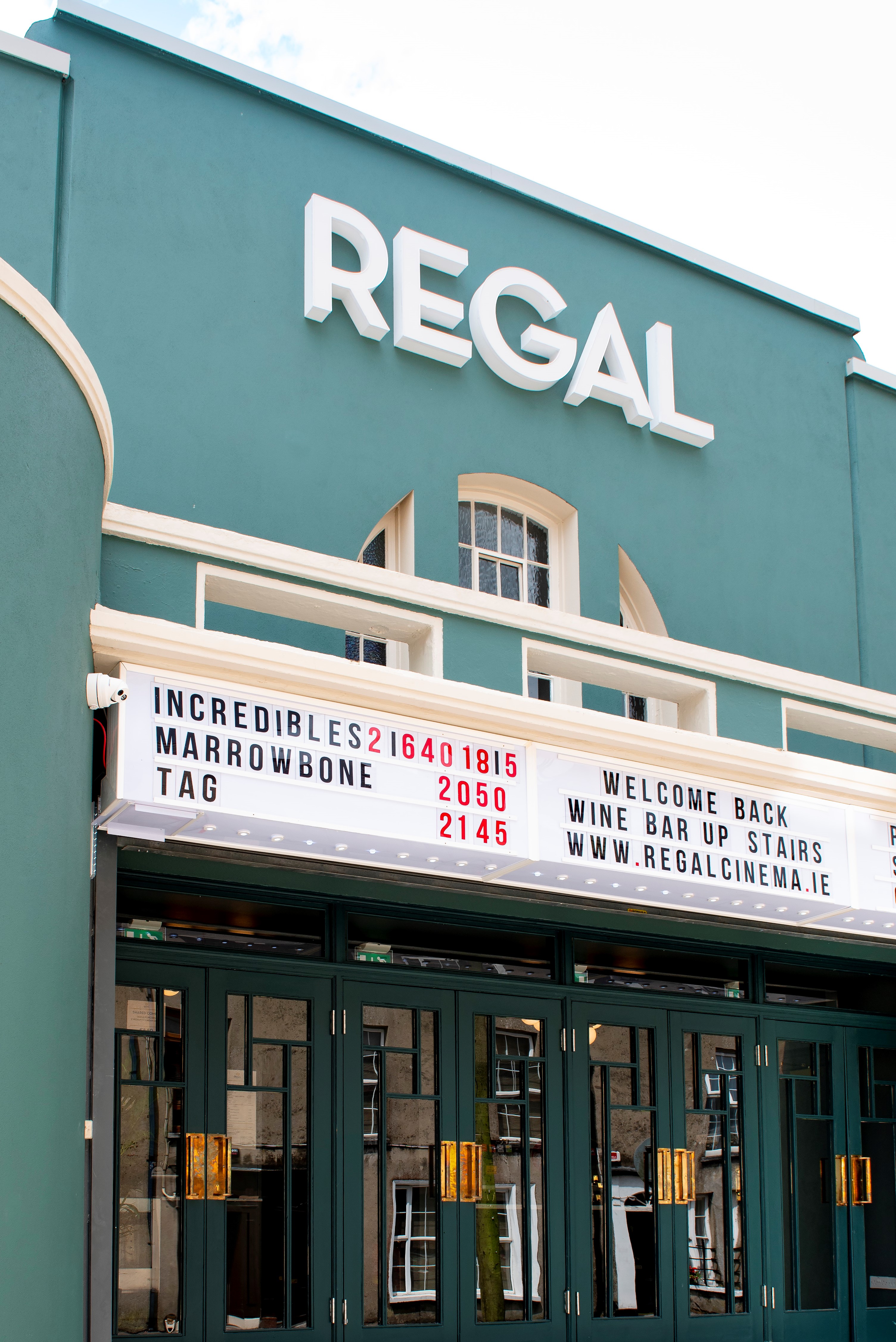 ---